Hethersett Hawks Vs. Ipswich Eagles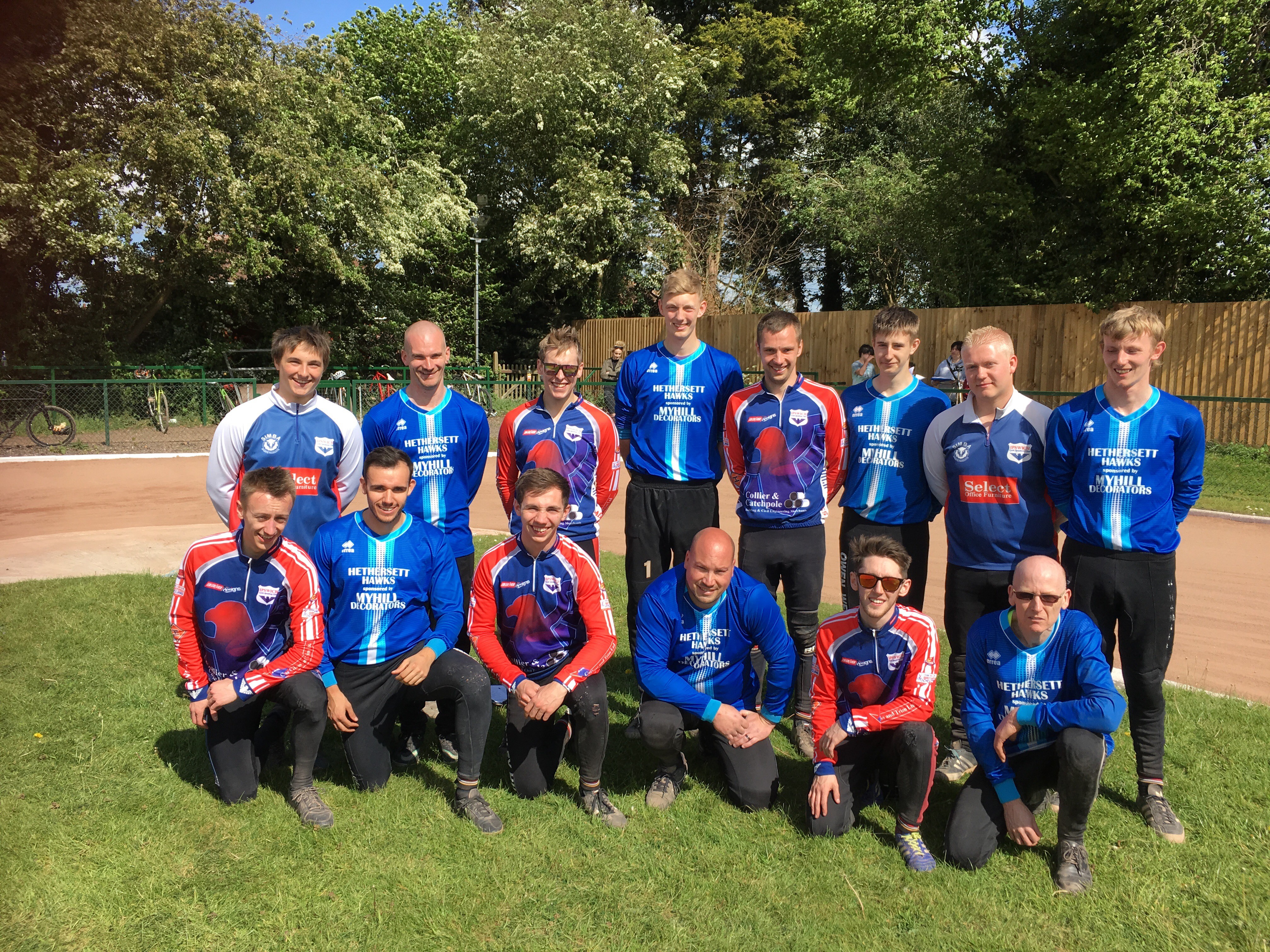 HETHERSETT HAWKS / MYHILL DECORATOTS had a weakened team against a full-strength champions Ipswich but competed very well in the first half with Dan Chambers and Dan Butler notably impressive. They felt well pleased with this effort to trail by just four points at the break.  After the interval a first-bend mistake let in Ipswich for a 7-3 win and they just played the percentages to protect and extend the lead after that.  The final score did not do the Hawks justice for their efforts.
HETHERSETT 69 IPSWICH 88
D.Chambers 18 D.Butler 13 H.Hamill 11 O.Buxton 9 G.Morgan 8 O.Wells 7 L.Hulcoop 3.
The Hawks retained their unbeaten run in Division 2 with a good win over the League favourites.  To be fair to the visitors they were unlucky in the early heats which allowed Hethersett to build an advantage and then faultless performances from Harley Hamill and Olly Buxton kept the Hawks' scorecard ticking plus some gritty rides from Owen Wells and Lee Hulcoop. Former top British female rider Tiffany Collins made a surprise return for the Hawks as a substitute while Reece Johnson impressed for Ipswich.
HETHERSETT B 84 IPSWICH B 75
H.Hamill 20 O.Buxton 20 O.Wells 15 D.Butler 11 G.Morgan 7 L.Hulcoop 6 P.Delaiche 3 T.Collins 2.
In the South East Grand Prix at Eaton Park four Hethersett riders reached "A" Finals – Glyn Morgan (2nd – veterans), Harley Hamill (3rd Senior), Owen Wells (4th Under-18s) and Olly Buxton (4th Senior) while newcomer Paul Delaiche won the Under-14 "C" Final.
This Saturday Hethersett stage the East Anglian Championships at the Memorial Playing Field starting at 1 p.m.