Hethersett Vs East London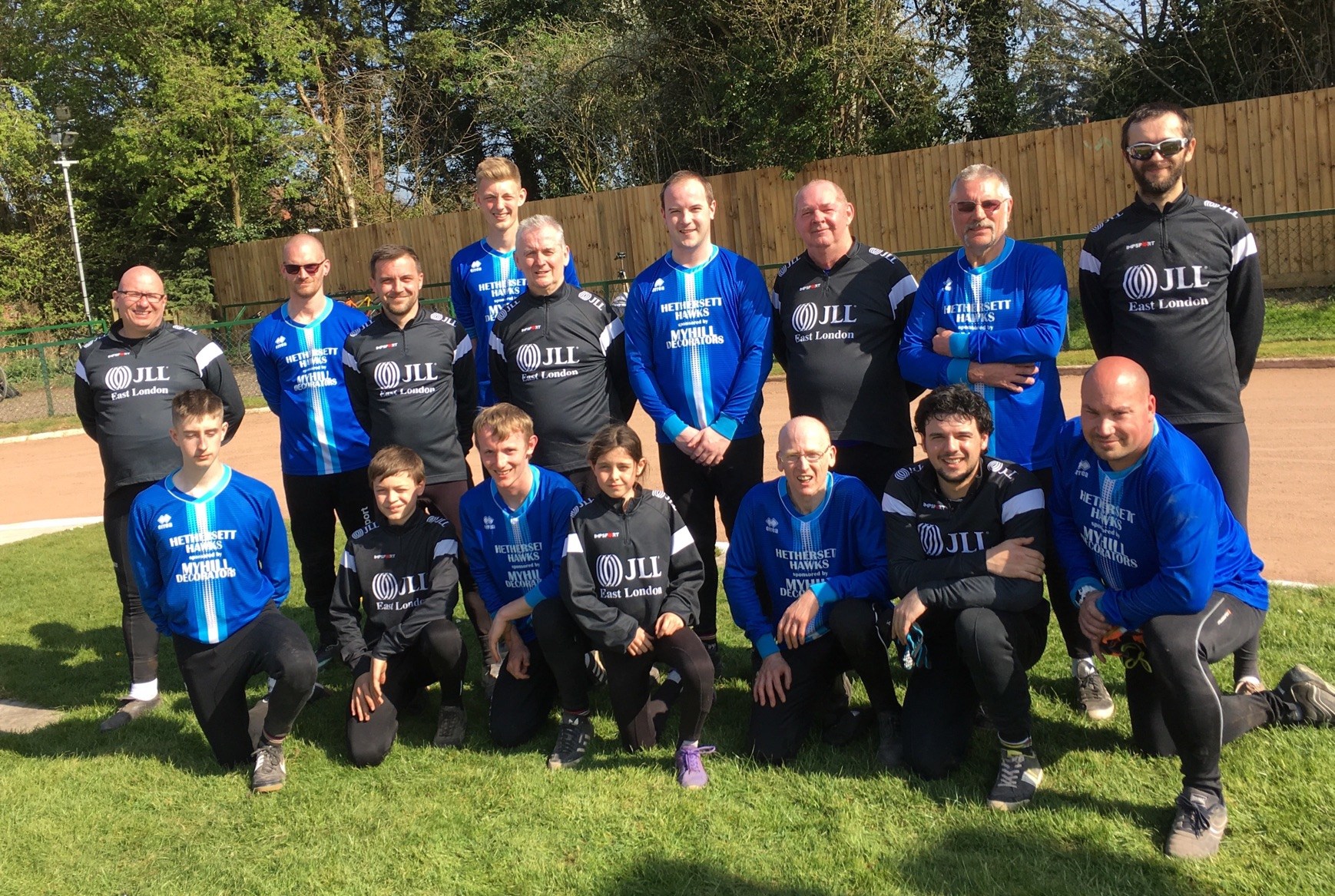 HETHERSETT HAWKS / MYHILL DECORATORS rested three experienced riders for the visit of East London to give the fringe riders a chance to impress ahead of some tougher assignments and they stood up to the task to record a comfortable victory.  Steady progress saw them foster a 13-point lead at the interval and no heat defeats in the second-half preserved the status quo. Harley Hamill recorded three wins in his substitute rides and there were impressive performances from Dan Butler, Lee Smith and Glyn Morgan.
HETHERESTT 93 EAST LONDON 65
D.Butler 15 L.Smith 14 O.Wells 14 G.Morgan 13 H.Hamill 12 R.Carter 9 O.Buxton 9 L.Hulcoop 7
After the match East London presented a sliver salver to stalwart Dave Hughes to recognise his uninterrupted 50 years of racing. He seemed inspired by this in the Division 2 match to record four wins.  It was a much tighter affair with the Hawks giving debuts to Ayrin Larter and Norfolk Under-10 champion George Larter-Dixon.  Scores were level for a long time as the experienced riders did their best to shepherd the novices.  Heat 14 proved pivotal as the Londoners settled into a 7-3 position before Hawks' veteran Glyn Morgan mounted a challenge.  There was a dramatic crash which resulted in an exclusion for East London's Max Renna and from there Hethersett scored a narrow victory.  Daniel Longlands was again impressive.
HETHERSETT B 82 EAST LONDON B 77
G.Morgan 15 D.Longlands 13 A.Larter 12 L.Hulcoop 9 G.Larter-Dixon 8 R.Carter 7 K.Adams 6 P.Delaiche 6 O.Buxton 6
Owen Wells competed in the first regional British Youth & Junior round at Kesgrave. In the Junior category he scored 7 points, earning him a place in the "C" Final which he won.
The Hawks have a break over Easter before the long haul to Sussex on Sunday 23rd to face Hellingly Lions.