Busy weekend for the Hawks!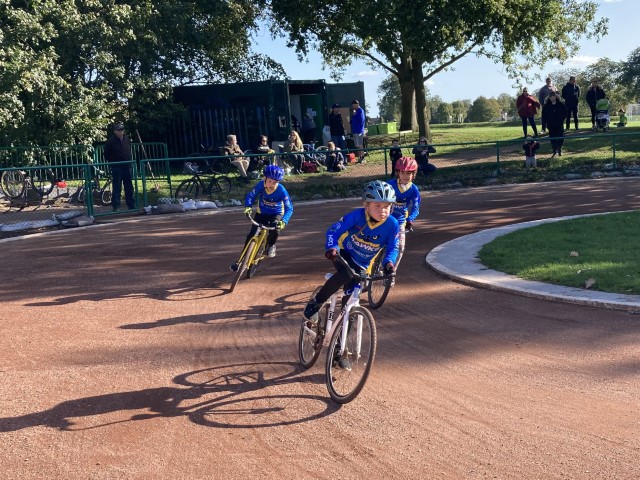 HETHERSETT HAWKS / YELLOW BRICK MORTGAGES had a busy few days around four tracks and came away with a few successes.  However, one of the most notable events happened at Great Blakenham on Saturday evening.  On 5th June 1980 a young 12-year-old lad called Andre Cross was coerced on to a bike to make up the number for the Giants team in the Hethersett Fours League. Little did he know how that would change his life.  He then made his local League debut at Spixworth a month later and his East Anglian League debut at Leiston that September.
After five seasons with his village club showing much junior promise he moved to bigger clubs to further his career – a career that gained him a World Cup winners medal, three consecutive European titles and three British titles (Uunder-21, Senior Outdoor and Senior Indoor).  After a spell in Australia and some top clubs in this country he moved in to motor speedway and ended up as a top-level mechanic.
But on Saturday night in the Jim Peck Memorial Over-40s event he was back in a Hethersett shirt for the first time in over 40 years and he scored a creditable 11 points against the top Vets in the world.  He was accompanied by Dave Martin who scored nine.  The lure of Australia means Andre will be back there for the World Championships in November, this time in a Hethersett shirt.
Earlier on the Saturday Dave Martin joined ten other Hawks at Kesgrave for Round 6 of the South-East Grand Prix.  Dave was runner-up in the Veterans while son Mason won the Senior.  There were third places in "A" Finals for Nyla El-Labany (U8s) and Aiesha Musa (Girls) and fourth places for Amelia Dodson (Girls) and Lola Martin (U12s), her first A Final in this series. In the Under-8s Isaac Emms won the B Final while in the Under-10s Arlo Davies (2nd) and Ronnie Harding (3rd) were in the B Final. In the Under-12s Luca El-Labany  came fourth in the B Final and Jamal Musa won the C Final.
At Ipswich on Sunday three Hawks raced in the final Battle of Britain Women's series.  Aiesha Musa scored seven points for the South-East while Lola Martin (12 points) and Amelia Dodson (9 points) were guests for the North and Scotland team.  In the Intermediate Grand Prix Lola won the B Final ahead of her club mates, which gave her fourth place overall after controversially having to contest a race-off for third.
The final round eight of the Norfolk GO-RIDE and Grand Prix Series was held at Hethersett after being cancelled the previous week due to heavy rain.  Sixteen riders took part and racing was competitive with several series prizes still to be decided.  Oscar Copeland was unbeaten in the Under-10s and won the series wit  Isaac Emms riding well to make the A Final. Nyla El-Labany did enough to win the Under-8s series but in the Under-12s /  Under-14s her brother Luca could finish only fourth and a big win from gate 4 in the final saw Norwich's Zachery Eastwood snatch the series win.  Maason Martin won the Senior / Under-16s Final and the Under-16 series but his father Dave won the Senior series.  In totals 50 riders have raced in the series, seven of them contesting all eight rounds.
Results (all Hethersett except where mentioned)
U8s and U10s
A – 1 Oscar Copeland 2 Ronnie Harding 3 Arlo Davies 4 Isaac Emms (1st U8s)
B – 1 Nyla El-Labany (2nd U8s) 2 Jax Lockhart (3rd U8s) 3 Micael Whitfield 4 Theo Coomber
U12s and U14s
A – 1 Zachery Eastwood (Norwich) (1st U12s) 2 Amelia Dodson 3 Lola Martin (2nd U12s) 4 Luca El-Labany (3rd U12s)
U16s and Senior
A – 1 Mason Martin (1st U16s) 2 Dave Martin 3 Jamie Medler (Norwich) 4 Harley Hamill
Referee – Dave Blackmore
Final overall positions (best 7 rounds count)
U8s – Nyla El-Labany 115 Isaac Emms 102 Henry Everson 37
U10s – Oscar Copeland 138 Aral Davies 124 Nyla El-Labany 115
U12s & U14s – Zachery Eastwood 127 Luca El-Labany 125 Lola Martin 121
U16s – Mason Martin 120 George Larter-Dixon 13
Senior – Dave Martin 128 Mason Martrin 120 Jamie Medler 119
Theo Coomber made his competitive debut – maybe he will follow in Andre's tracks!!!
Attachments