Another British Champion crowned for the Hawks!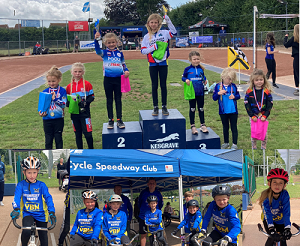 Hethersett Hawks / Yellow Brick Mortgages have crowned another British Champion!!
Saturday saw the youngest of the Hawks riders venture across the border to Kesgrave for the U8 and U10 Little League British Championships.  Following the success of last year at Leicester, the Hawks were going with high hopes but with relatively new riders, a tricky banked track and ever-changing weather conditions!
Opening the day was the U8 Boys and Isaac Emms in his first full season of cycle speedway and up against some tough riders from Kesgrave who also had the home track advantage.  Isaac, however, showed no sign of nerves, riding with confidence and smiles and enjoying every moment.  Finishing an amazing 8th, he came off the track declaring it was the best day ever.  This could have been due to the shiny medal around his neck or the goody bag provided by Kesgrave containing a free ice-cream coupon! It was a clean sweep for the top three by Kesgrave with Tom Parr continuing his run of unbeaten qualifying heats to take the title.
Next up on the track was Nyla El-Labany looking to defend the U8 title that she won last year.  In a year that has seen Nyla grow as a rider the Hethersett support crew were quietly confident that she would place.  However, she had to pull some moves out of the bag and use that epic determination she has as she faced some stiff competition from Tabitha Evans from Horspath who rode unbeaten through her qualifying heats.  Nyla had a handle on the final with the finish line in her sights when Evans suffered a fall at the pit lane corner behind her.  Keeping her focus, Nyla brought it home to retain her title and put on the epic British jersey once again.  In a replica of results from last year Tallulah Curtis from Poole also retained her U10 title.
The U10 Boys Individual saw 5 Hethersett entries in the form of Thomas Barnard, Oscar Copeland, Arlo Davies, Alfie Gunn and Ronnie Harding.  This was always going to be a hotly contested title with the potential of it going back to any of the clubs.  Eyes were on Sam Ridley (Hellingly), Bobby Dunphy (Bury), Oscar Pemberton (Kesgrave) and Roman Boaler (Horspath), many of whom race in the BYJL, and there were other riders, including Ronnie Harding and Oscar Copeland, who would be looking to throw their hat in the ring too. With the wind picking up and the gazebos having to come down, the riders rode their hearts out, responding to shouts of 'Out wide, in tight' from the coaches as well the screams of the support crew.  All respect to our riders who had to deal with the ever picking up wind, fall, re-starts and even a chain coming off for Arlo!  Luca El-Labanyended up handing the winners trophy to Roman Boaler who rode undefeated throughout all his races.  The young Hawks should be immensely proud of themselves with their results being Oscar Copeland 9th, Thomas Barnard 11th, Ronnie Harding 12th, Arlo Davies 15th and Alfie Gunn 18th.  A great time seemed to be had by all and the boys should be pleased with their performance on the big stage!
Last up it was the Boys U10 Team Championship, and in the words of 'Rocket Ronnie, the one he had come for.  This year's team consisted of defending champions Oscar Copeland and Ronnie Harding, Thomas Barnard just 12 weeks into his cycle speedway career, Arlo Davies in his second full season and super sub Alfie Gunn in his first full season.  With Kesgrave entering two teams, Roman Boaler riding again for Horspath and a relatively new team, the adults were all set for the boys to enjoy the experience but the boys had a very different view, with Ronnie's determination spreading throughout the whole team!  Part of last year's winning team in the form of Austin Brailey and Luca El-Labany, were on hand in the pits to offer encouragement and words of advice along with the coaches.  If the boys rode well in their individual races then they rode even better in the team event, with all boys taking at least one win.  Arlo's lines were smooth and he showed some tactical racing, Oscar dug in deep to keep in the mix, Thomas showed how quickly he has learnt, Ronnie held his nerve and lines to come out on top when being sandwiched between riders and Alfie, with the smile never leaving his face, waited in the wings in case he was needed, in some ways having one of the hardest jobs knowing that you might not get a ride depending on how the points are going.  With the adults barely able to speak from shouting their support, they fought to the end and with Ronnie riding the final heat to bring the team home to claim the second spot on the podium.  Fully deserved and a brilliant way to end the day.  Whilst it was clear from the entries that some teams seem to be lacking youth riders, the Hethersett Hawks seem to be going from strength to strength.
Scores
Kesgrave panthers 72 Hethersett 60 Poole 47 Kesgrave pumas 45 horspath 44 gt Blakenham 32
( Ronnie Harding 17 Oscar Copeland 15 Arlo Davies 14 Thomas Barnard 14 Alfie Gunn dnr)
Videos are on our YouTube channel: https://youtube.com/playlist?list=PL507vKCHOwmFLQQ2PC5NMx8vGevQyn1sA
This Saturday Glyn Morgan will be in Newport for the next Euro Vets round while on Sunday the Hawks entertain Great Blakenham in Division 2 and Youth League matches starting at 2 pm.
Mel (match report by Sarah Brailey)