British Club Championships – Hethersett Hawks 3rd place!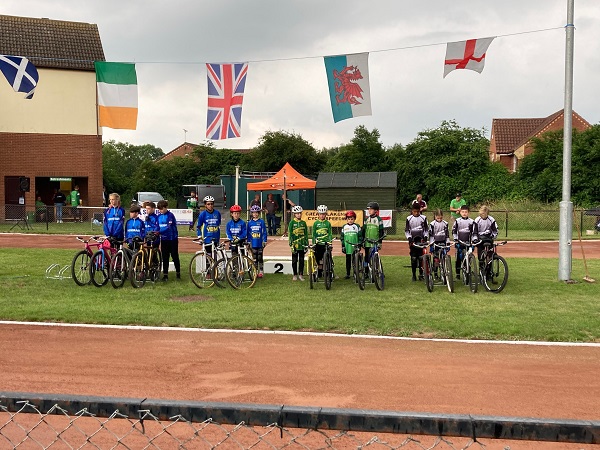 HETHERSETT HAWKS / YELLOW BRICK MORTGAGES contested four of the seven available categories at the British Club Championships in Suffolk and the six riders involved were rewarded for their commitment and enthusiasm with medals in two events and an overall third place in the Championships, their best ever position.  However, it should be noted that four Clubs, including reigning champions Poole, did have to withdraw at the last minute due either directly or indirectly to COVID isolation situations.  While that was a shame for the event it did open up opportunities for the young Hawks, four of whom had not raced outside Norfolk before yet alone in a British event.
Saturday's racing was at Great Blakenham and first up were the Under-14s.  After a 7-3 reverse against eventual unbeaten winners Kesgrave, Mason Martin went on to win four of his races and was unlucky to clip a wheel in another suffering a heavy fall.  Unde-14 level racing on the big and fast circuit was a step up for Aiesha Musa and Will Clarke but they received plaudits from referee Kevin Wells afterwards fir their efforts in finishing joint firth –
Kesgrave 42 Norwich 34 Ipswich 30 Coventry A 30 Hethersett 26 Coventry B 26 Hellingly 22 (M.Martin 19 A.Musa 4 W.Clarke 3)
Next on track were the Juniors – a three Club affair against Suffolk sides Ipswich and Kesgrave.  Paul Delaiche was still carrying an injury and was not at his best but he did create an opening for McKenzie Loombe against Ipswich, his second place being the only points Ipswich dropped.
Ipswich 27 Kesgrave 20 Hethersett 13 (M.Loombe 7 P.Delaiche 6 picking up bronze medals)
Just as the Under-12s took to the track to warm-up rain from the fringes of a thunderstorm started to fall and ironically ended immediately the match finished.  This made conditions even more difficult for the young Hawks who got into some good positions but inexperience on larger tracks saw them fade.  The experience will help them on a long learning curve.
Kesgrave A 27 Kesgrave B 24 Norwich 19 Hethersett 15 Gt.Blakenham 12 (A.Musa 6 W.Clarke 6 T.Silver 3)
On Sunday racing switched to Ipswich and the Hawks were in the Under-16s with Mason Martin again impressing against Ipswich while Kesgrave remained unbeaten.  Mckenzie Loombe continues to look a more confident rider too.
Kesgrave 28 Ipswich 17 Hethersett 15 (M.Martin 10 M.Loombe 5 picking up bronze medals)
So overall after points awarded for all seven categories Kesgrave were crowned Club Champions followed by Ipswich and Hethersett.
Kesgrave – 113
Ipswich – 81
Hethersett – 66
Norwich – 52
Leicester – 50
Great Blakenham – 46
Sheffield – 34
Birmingham – 32
Coventry – 30
Horspath – 25
Hellingly – 12
Meanwhile in Leicester Leigh Cossey and Craig Norton won their semi-final in the Will Burns Memorial Pairs and almost made in onto the podium in the final finishing one point behind the teams in second and third.
The South-East League returns at last this Sunday with the Hawks at Eaton Park against Norwich Stars (2 p.m.) followed by a Youth League match at 3 p.m.