Double victory for Hawks!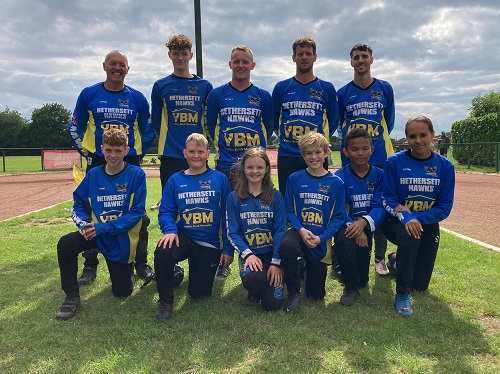 HETHERSETT HAWKS / YELLOW BRICK MORTGAGES entertained Great Blakenham in the South East Division 2 and Youth Division and put new life into their campaign with a double victory.  The Division 2 match had a mix of very experienced riders and young prospects and proved to be very competitive,  so much so that top referee Terry Ashford was very busy dealing with several restarts.
Mason Martin atoned for an early exclusion which had given Blakenham the advantage by winning twice in a four-heat winning sequence for the Hawks leading up to interval, the Hawks leading at the break by 10 points. A steadying team talk saw the Hawks maintain that advantage till the end.  Star turn was Jamie Neill who, in his comeback season, is hitting peak form with three heat wins.
HETHERSETT 84 GT BLAKENHAM B 74
(Jamie Neill 19+1 Dave Martin 14+1 Harley Hamill 14+1 Paul Delaiche 13+3 Mason Martin 12+1 Lola Martin 7 Aiesha Musa 4+1 Oscar Copeland 1)
Referee – Terry Ashford
Great Blakenham were a rider short in the Youth team so were always up against it despite ten race wins by their leading two.  For the Hawks it was good to see they are getting to grips with team riding which helped to enhance the development of improving Jamal Musa, Hugo Kemp and Austin Brailey.  Highlight was the brother and sister Musa duo inflicting a 7-3 win over unbeaten Quinn Walker-Fuller.
HETHERSETT U16 85 GT.BLAKENHAM U16 70
(Lola Martin 18+1 Aiesha Musa 15+3 Jamal Musa 14+2 Austin Brailey 14+1 Hugo Kemp 13+3 Oscar Copeland 11+4)
Referee – Gavin Whitehouse
Glyn Morgan endured heavy rain in Wales as he continued his quest in the Eurovets Series at Newport.  Like true veterans they all carried on regardless and Glyn finished second in the Over-60s "A" Final and second in the Over-50s "B" Final. The next round switches from Wales to Scotland with racing at Glasgow on Sunday 6th August.
This coming Saturday see the biggest event at the Memorial Playing Field for a  few years with the Hawks hosting National Round 2 of the British Youth & Junior League and Little League Grand Prix Series. Youngsters will come from all over the UK with the Under-8s starting the show at 10 a.m. Other age groups follow throughout the day.
And if that wasn't enough the Hawks travel to Kesgrave on Sunday for three League fixtures.