Hawks attend the British Club Championship 2023!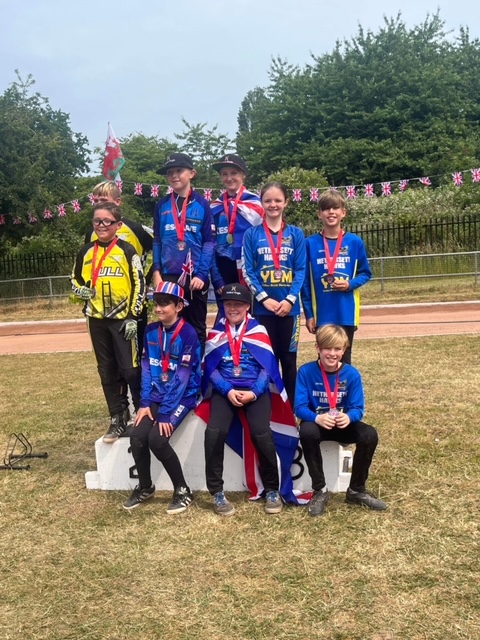 HETHERSETT HAWKS / YELLOW BRICK MORTGAGES had a brilliant weekend of racing when they entered every category at the British Club Championships in Birmingham, something only them and holders and deserved winners Kesgrave achieved.  It was disappointing that no official announcements were made of the final club scores and the Hawks came away not knowing where they finished although believing they were runners-up.  However, it transpired a few days later that there is a rule in the depths of British Cycling regulations that only the best five of the eight categories count!!  Still no official announcements but calculations along those lines seemed to indicate the final top three are Kesgrave 98 Poole 91 Hethersett 78 with no other club close. Nothing official yet and another iteration has been seen with results in the Veterans match adjusted and this could mean the Hawks finish fourth.  Not a good response from the sport to reflect the effort put in by riders, parents and officials to take part.
Initially this will be disappointing for the squad who gave their all that weekend, performing above expectations, but on reflection it is still a terrific achievement for a village club and something to be very proud of.  The club managed to get one team on the podium with Luca El-Labany and Lola Martin stepping up for bronze medals in the Under-12s. Other achievements of note that deserve special mentions are Mason Martin and George Larter-Dixon, who finished fourth in the Junior (Under-18) Final after already competed in the Under-16s and the Open, and a late replacement pair of Amelia Dodson and Austin Brailey who reached the Under-14 final.
Videos of our races can be seen on our youtube channel: https://youtube.com/playlist?list=PL507vKCHOwmFCB8p2p9mEP4-OTNHk0CvZ
Full results for the Club over the weekend –
Under-16 Girls Final
Poole 38 Kesgrave 35 Newport 24 Hethersett 22
(Aiesha Musa 12+1 Amelia Dodson 10+1)
Under-16 Boys Final
Kesgrave 32 Poole 31 Southampton 27 Hethersett 24 Coventry 18 Sheffield 14
(Mason Martin 14+1 George Larter-Dixon 10+1)
Women Semi-Final
Sheffield 37 Poole 31 Kesgrave 28 Hethersett 20
(Aiesha Musa 13 Amelia Dodson 7+1)
Veterans Final
Gt.Blakenham 38 Poole 36 Leicester 35 Birmingham 33 Newport 24 Kesgrave 22 Hethersett 20
(Dave Martin 14 Jamie Neill 6+1)
Under-14 Semi-Final
Kesgrave 42 Horspath 30 Hethersett 23 Astley & Tyldesley 22
(Amelia Dodson 12+1 Austin Brailey 9 Luca El-Labany 2)
Under-14 Final
Kesgrave 33 Coventry 28 Hull 28 Newport 26 Horspath 19 Hethersett 16
(Amelia Dodson 5 Lola Martin 5 Luca El-Labany 4 Austin Brailey 2)
Under-12 Final
Kesgrave 39 Hull 34 Hethersett 32 Newport 28 Astley & Tyldesley 26 Coventry 24 Sheffield 20
(Lola Martin 17+2 Luca El-Labany 15+3  Austin Brailey dnr)
Open Semi-Final
Birmingham 58 Wednesfield 42 Hethersett 31 Horspath 27
(Mason Martin 11 Dave Martin 7 Harley Hamill 7 Paul Delaiche 5 George Larter-Dixon 1)
Junior Final
Kesgrave 39 Poole 36 Southampton 31 Hethersett 30 Ipswich 27 Birmingham 27 Sheffield 18
(Mason Martin 17+1 George Larter-Dixon 13+1)
If Glyn Morgan is to continue his defence of the Eurovets Over-60s title this weekend he faces a long trip to Exeter but closer to home a lot of the Hawks will be at Eaton Park on Sunday for Round 5 of the Norfolk GO-RIDE and Grand Prix Series starting at 1 p.m.