Hethersett Hawks news!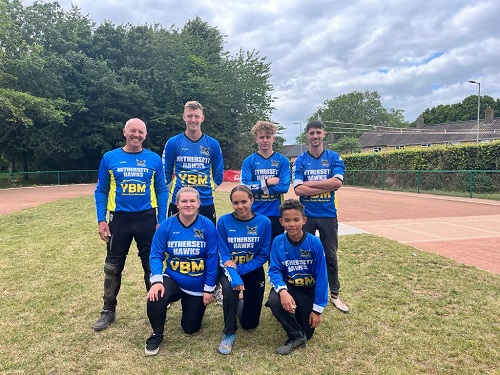 HETHERSETT HAWKS / YELLOW BRICK MORTGAGES visited Eaton Park for the local derby in South East Division 2 against Norwich Stars minus three of their first choice riders.  Olly Buxton came in for a rare appearance to help out and he was his ebullient self and performed well, encouraged the team and produced some great team-riding with Aiesha Musa as the Hawks improved in the second-half.  Paul Delaiche won his final ride and George Larter-Dixon rode very well without getting the points reward.  One of the best cheers from the pits area came when Katie Adams held out for a third place.
NORWICH 96 HETHERSETT 64
(Olly Buxton 17+2 Paul Delaiche 13 Jamie Neill 11 Aiesha Musa 9 George Larter-Dixon 7+1 Katie Adams 5 Jamal Musa 2)
Referee – Shaun Dyball
The previous day the El-Labany siblings travelled to Sheffield to compete in National Round One of the British Youth & Junior League and Little League Grand Prix.  Both had similar experiences.  Nyla won her first two races well in the Under-8s but then made a bad start in race three which cost her a vital point  and a place in the "A" Final.  She then drew gate 4 in the "B" Final and was edged out and could not better the fourth place.
Luca in the Under-12s had 22 opponents so a tough round.  He worked hard for 10 points which gave him a race-off to get in the "C" Final.  Like his sister he drew gate 4 and, although he did well to finish second, there was only one place available so had to settle for the "D" Final which he won comfortably.
Both will be looking to improve on that as the Round 2 is at Hethersett on July 29th.
This weekend riders will be at picturesque Somersham on Saturday for Round 5 of the South East Grand Prix and back in Suffolk On Sunday for Division 2 and Youth team matches at Ipswich.