Last League matches of 2023 for the Hawks!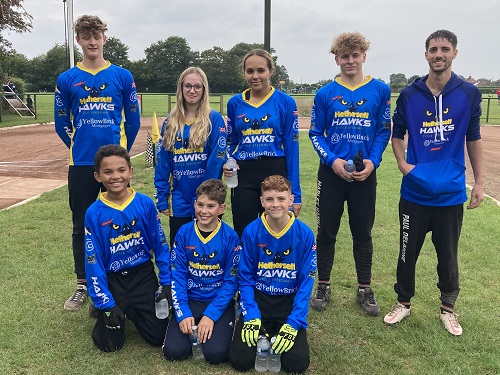 HETHERSETT HAWKS / YELLOW BRICK MORTGAGES concluded their South-East League programme with two victories over Sussex side Hellingly Lions at the Memorial Playing Field track.  In the Division 2 match the Hawks built up a 12-point lead by the interval thanks to three wins by the Harley Hamill / Mason Martin pairing and good teamwork elsewhere. The use of a Hawks substitute in heat 13 gave the Lions an opportunity for a heat win and an exclusion in the final heat gave them their only other success.
They relied heavily on the Hollebon brothers, Martyn looking very impressive but the Hawks had too much depth with Paul Delaiche having a much improved performance.
HETHERSETT 89 HELLINGLY 70
(Paul Delaiche 19 Mason Martin 17+2 Harley Hamill 16+2 Dave Martin 14+3 Jamie Neill 11+1 George Larter-Dixon 8+2 Lola Martin 4)
Mason Martin, in his final Youth League match, and George Larter-Dixon were unbeaten in the Youth League match which ebbed and flowed until it came down to the final heat with the scores level.  With Martin and Larter-Dixon selected the visitors decided to give younger riders a race which rather gifted the match to the Hawks without a contest.
While top riders were outstanding it was a couple of good rides by Frank Spauls and one excellent third place by substitute Hugo kemp which ensured the Hawks held the advantage to the end.
HETHERSETT U16 82 HELLINGLY U16 78
(Mason Martin 24 George Larter-Dixon 19+5 Amelia Dodson 11+1 Frank Spauls 10 Aiesha Musa 8+1 Lola Martin 7 Hugo Kemp 2+1 Jamal Musa 1)
Referee for both matches was Paddy Wenn.
The previous day three young Hawks went to Poole for the final round of the British Youth & Junior League.  Nyla El-Labany continued her good form to finish 2nd in the B Final of the Under-8s making her fifth overall in the series.  Brother Luca had a tough draw in the Under-12s but also finished second in the B Final and a sixth place overall in the series.
Amelia Dodson was leading some key rivals in her first race in the Girls section but suffered a fall.  This dented her chances and her prie but a fourth place in the B Final ensured she finished sixth overall in the series.
In the Team competition Hethersett finished in fifth place overall over the four rounds.
This weekend riders are in action around Suffolk.  On Saturday some are at Kesgrave for the South-East Grand Prix and others at Great Blakenham for the Jim Peck Memorial event.  Sunday the action is at Ipswich in the final round of the British Women and Girls League.