Norfolk Go-Ride Grand Prix Round 2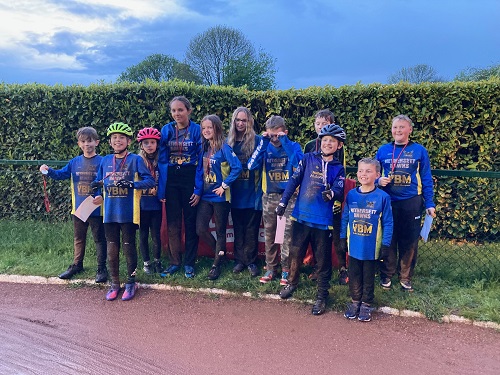 HETHERSETT HAWKS / YELLOW BRICK MORTGAGES staged Round 2 of the Norfolk GO-RIDE and Grand Prix Series.  After missing the worst of a storm which flooded Norwich an hour before start time, the weather did not relent and steady rain started to fall just as the riders lined up for heat 1.  With puddles appearing the decision was made to carry on and the bumper attendance of 29 riders battled on to stage 40 heats in 90 minutes which was a credit to the riders, officials and track staff.
Not the ideal evening to make competitive racing debuts but four did – Cerys Williams, Thomas Barnard and siblings Elsie and Lewis Brook.  In the end the finals resulted in little change of winners from Round 1 apart from the much-improved Lola Martin winning the U12 gold medal. It was also good to see more senior riders taking part displaying all their variety of skills for the youngsters to watch and learn.
Grand Prix Final Results – (Hethersett unless stated)
U8 & U10
A – 1 Oscar Copeland 2 Arlo Davies 3 Nyla El-Labany (U8 1st) 4 Thomas Barnard
B – 1 Alfie Gunn 2 Owen Steohens 3 Elsie Booth (U8 2nd)
U12 & U14
A – 1 Aiesha Musa 2 Lola Martin (U12 1st) 3 Luca El-Labany (U12 2nd) 4 Zachery Eastwood (Norwich – U12 3rd)
B – 1 Amelia Dodson 2 Will Clarke 3 Jamal Musa 4 Austin Brailey
C 1 – Lewis Booth 2 Will Blackmore (Norwich – ns) 3 Cerys Williams  (ns)
U16 & Senior
A – 1 Mason Martin (U16 1st) 2 Dave Martin 3 Harry Everiss (Norwich) 4 Jamie Medler (Norwich)
B – 1 Paul Delaiche 2 Tom Blackmore (Norwich) 3 Nick Davies 4 Ross Carman
C – 1 Michael Gunn 2 Jack Weston (Norwich) 3 Katie Adams (ns)
Referee – Sarah Brailey
Round 3 is on Sunday 21st May – moved from Spixworth to Harford Park – starting at 1 p.m. with Hawks riders having a busy weekend as the previous day many will be at Ipswich for Round 3 of the South-East Grand Prix and British Youth & Junior League Regional Round.
Full series scores are here: https://www.hethersetthawks.co.uk/results/go-ride-and-senior-series/