Pedal to Paris update – Hawks Challenges!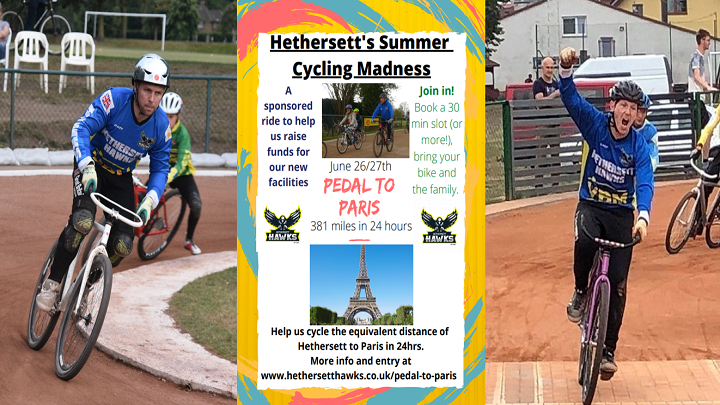 Starting at 3pm on Saturday 26th June, and ending at 3pm on Sunday 27th June we will continually ride around our track so that we can cover the equivalent distance of Hethersett to Paris – the finish for the Tour de France. That's 381 miles in total in 24 hours! We are raising funds for our new 'Nest' that will provide the much-needed facilities for our growing club, plus a space to house the popular Wonky Wheels Community Bicycle Workshop.
Senior riders Harley Hamill and Leigh Cossey have both set themselves massive personal challenges to help us to raise funds for the 'Nest'.
Harley's challenge – ride the track for 12 hours out of the 24!
Leigh's Challenge – complete 1000 laps of the track!
We've set up a GoFundMe page so people can donate money directly for these riders and make their huge effort worth it! https://gofund.me/d2db1265 to donate online and select to donate to Leigh or Harley.
Leigh will be riding Sunday from 7am, if you would like to join him and give him so motivation. So when you enter Pedal to Paris, you have a 50/50 chance of riding with Harley!
We've estimated that the average person can complete 100 laps/5 miles when riding around the track for 30 minutes. (This is likely to be less after several hours of riding!)
One of our young riders has pledged to help us on our journey to Paris by riding 200 laps. We are expecting more riders and families to set themselves personal challenges worthy of sponsorship so watch this space!
Please click her for more information and entry/sponsorship forms https://www.hethersetthawks.co.uk/pedal-to-paris/