Pedal to Paris Prize Winners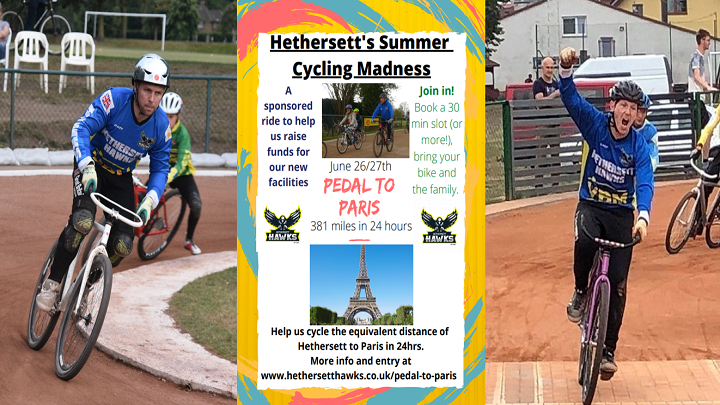 Thank you to our sponsors for donating prizes and to everyone that entered our games at the Pedal to Paris weekend. Thalia's 'Guess the Name of the Teddy' is still running. Next time speedway is on, please pop along to the tea hut to guess the name!
We can now announce the winners of the other 4 games:
There were 1063 chain links in the jar – well done Curtis Roberts for guessing the closest answer – you win a bike service from https://wonkywheels.org/!
Harley completed an amazing 2,345 laps (and rode for 12 hours!) – Lorna Jermyn guessed 2386 laps so wins a voucher for car valeting from https://www.pandnvehicledetailing.co.uk/
We arrived in Paris at 8.19pm on the Saturday night – Lorraine Hull guessed closest to this time and wins a Sunday lunch voucher from the https://www.queensheadhethersett.co.uk/
The person that guessed the most popular name of rider that has represented the Hawks was John Nelson with his answer of Dave/David! He wins a voucher for a facial at http://www.green-therapies.co.uk/.
498 Hawks riders, most popular names:
21 – David/Dave
18 – Richard/Richie
16 – Stephen/Steven/Steve
15 – Paul
14 – Michael/Mick/Mike
13 – Daniel/Dan/Danny
12 – Andrew/Andy
10 – Ben
10 – Christopher/Chris
Sponsorship money is still coming in for the weekend, we've raised around £3000 so far. If you haven't donated yet please do so here: https://gofund.me/d2db1265
The number of laps completed by each rider on our Pedal to Paris: