YBM/Hethersett Hawks Presentation Night 2020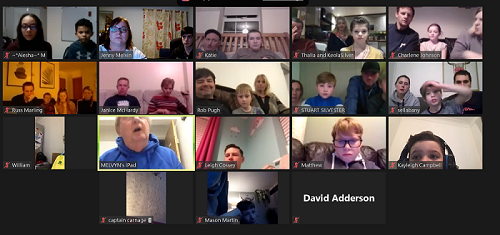 Thanks to everyone that attended the Presentation Night. It was a lot different to usual being hosted via Zoom with everyone at home, rather than at Hethersett Social Club ( and usually followed by an outing to the City afterwards for the really hard-core)!
So that the awards could still be presented in person, work went on behind-the-scenes secretly getting the trophies to parents and partners of the recipients so that they could present the award on the night and it would still be a surprise to the receiver!
Chair Mel congratulated everyone on a successful year, congratulating the Club Champions and the 3 Norfolk Champions, then announced the first awards.
U8 Fastest Time 2020 – Luca
U10 Fastest Time U10 2020 – Louis
U16 Girl Fastest Time 2020 – Aiesha
U16 Boy Fastest Time 2020 – Mason
Hawks Fastest Time 2020 – Paul
Sacha and Russ then went on to explain more about our plans for the Nest and how they are progressing. We are currently fundraising for the bike workshop which will enable us to teach bike maintenance skills and will benefit everyone at the Hawks and our local community. So far we've raised £578 towards are target of £3,000. Harley also received confirmation from 2 local businesses that they will donate £100 to the project in return for an advertising banner displayed at the track for a year.
The fundraising page for the Wonky Wheels Community Bicycle Workshop, led by the Hethersett Memorial Playing Field Trust and strongly supported by us is live for the next 30 days so please donate whatever you can and share on social media (especially with your Aviva friends who receive free credits to donate)! More information on the project can be found here: Aviva Community Fund Page
Mel then went on to award:
Best Attendance 2020 – winner – Matthew – who attended 28 out of 30 sessions held!
Club Member of The Year 2020 – winner – Nigel – for his help maintaining the track, spending his free time completing his Coaching Course and for being at all training sessions that he could.
Nigel then presented the Coach's Award to Thalia, for her commitment, perseverance and improvement over the season.
After that Jenny went on to give a few updates:
– explaining the role of the Welfare Officer within the club and that Jenny and Katie currently hold that position. Leigh Cossey is the Rider Representative;
– the track is not suitable for riding at the moment, but when it is we will notify riders, who should get in touch if they'd like to borrow a bike before training starts;
– Our AGM is Sunday, 28th Feb at 3pm. Zoom details will be sent via Teamer
– We'll be asking families to be involved in our 24-hour endurance race to be held as soon as we can (possibly Easter Bank Holiday weekend) ;
– We have plans for more individual racing and team racing events for all ages.
Jenny then announced the winners of the awards that determined by votes.
Best Newcomer – riders who joined this year and improved and showed best potential (voted by the committee)
Winner – Aiesha
Most Improved Junior – a former member who has improved during the year (voted by the committee)
Winner – Max
Young Sportsperson of The Year 2020 – Only Hawks aged under 16 could vote for this
17 votes, comments received:
Matthew – is supportive of other riders by cheering them on and
Grace – for always riding with a big smile!
Runners up – Thalia, Lola and Ronnie.
Winner – Aiesha
Sportsperson of The Year 2020:
40 votes, comments received:
Lola – for helping fellow riders and being a good role model to them, always offering to help club volunteers with anything that needs doing
Nigel – Without hesitation, because he's given me so much help
Leigh – shows good sportsmanship, attended as many training sessions as he could and always supported and gave advice to youngsters, often sacrificing his own training
Jenny – person who is there week in week out, come rain or shine, helping encouraging and supporting riders, gives advice, engages parents and got some to race
People receiving more than one vote: Lola, Paul, Amelie, Max and Thalia
Runners up – Leigh and Jenny
Winner – Nigel
The session was rounded off with a game of 'Trousers or no trousers?' 2 people had spent the whole session with no trousers on and everyone had a chance to guess who that was! Thanks Katie and Rob Silver for being great sports! Unfortunately, we didn't get a photo of the pink tu-tu that Rob was wearing!
Hopefully we will be able to start training again fairly soon, in the mean-time stay safe and share this link Aviva Community Fund Page!